45 YEARS OF CREATION OF FRANJO MUSTAČ MEDAROV Spirituality as a lyrical homeland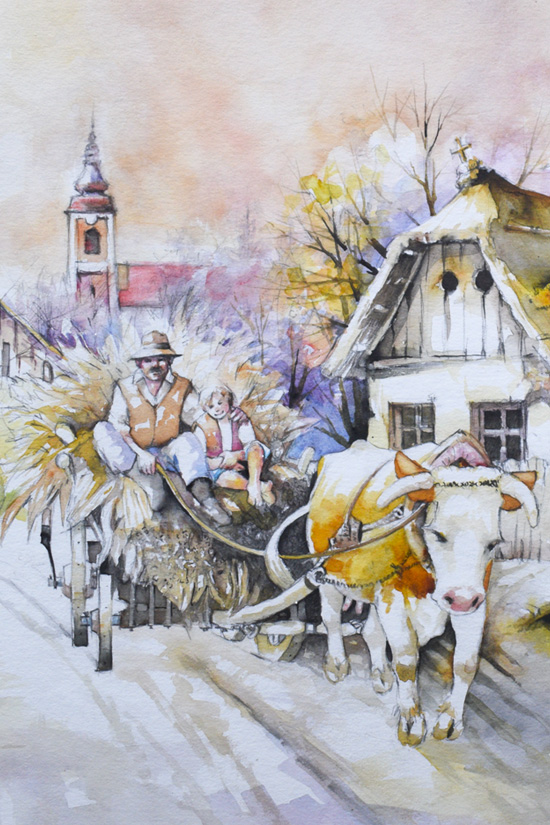 WRITTEN BY: Josip Šimunko
Franjo Mustač Medarov painted his first painting back in 1973. He was only fifteen years old and since then he has been bond with the visual art. For 45 years of his artistic life (or rather, perseverance), Franjo Mustač Medarov has been carrying in his heart and cherishing one author's artistic idea as his emotional lyrical homeland. As if it was destined, the artwork is present in several generations of Mustač family, which is not unimportant.
His homeland is almost an imaginary village of Međimurje that ascends to the sky, to the lyrical pride of life, and in reality – his Sveta Marija as a visual inspiration and love. This is not regret for the lost times of the past, but the thoughtfulness of the author who builds his world of art as his thought.
Because of this, he almost ascetically abandons anything that would overshadow that magical lightness of the lyrical and emotional blend of the natural element and people. There are no factories, modern city architecture or new technological marvels in his paintings. True to himself and his artistic mission, he uses a little of the so-called cool colours, blue and green. Each of his paintings tells us of a peaceful and simple life, of the love of the spiritual.  i svojem likovnom poslanstvu do krajnosti, manje upotrebljava takozvane hladne boje, plavu i zelenu. Svaka njegova slika govori nam o spokoju i jednostavnom životu, o ljubavi duhovnog. 
For 45 years, his name has been well known to the admirers of Međimurje's landscape, while in the professional Croatian art public he is known as a painter who is not subject to various directions of turbulent art movements. According to art critics, as well as numerous admirers and the public, he has long been honoured as one of the best painters and graphic artists in northern Croatia.
As an educated painter, he built his own distinctive style and visual spiritual world but remained a painter and poet of the rural and lyrical land of Međimurje. His artistic expressions are first and foremost soft in a pastel colour scheme, completely and ultimately impressive by emotional warmth and almost mythical country and land atmosphere.
The motifs of his paintings are mostly the landscapes of the village, the people who live in the village  – caught up in everyday work in the field – or churches and chapels as spiritual verticals that are not only spiritual symbols, but they mark the place, the topos of life. Humans and land almost cooperate in a romantic rapture.    
Almost unnoticed over the years, Mustač has changed as a painter, calming topics and motifs through a coloured communication surfaces and abstracting what is less relevant. Therewith his paintings only gained in value.
Thematically, his work can be viewed in many ways. First, as a work  nadahnutog crtača i grafičara, zatim kao slikara lirskih međimurskih pejzaža koje godinama gradi sve do obojenih ploha, potom kao autora slika koje potpisuje s  of an inspired drafter and graphic artist. Secondly, as a painter of the lyrical landscapes of Međimurje that he has built up to the coloured surfaces over years. Thirdly, as an author of paintings that he undersigned with the family nickname Medarov and honoured a simple rural life: his cornstalk laying on the field have a soul. Lastly, as an author of a sacral opus, that is distinctively his own, personal and it is not subject to the canons of typical sacral painting. As a drafter and graphic artist, he brought his technique to the perfection, and his drawings are often a template for paintings. 
He also appears as the author of a monument to Croatian defenders of Sveta Marija, which is in the form of Fritillaria – a protected orchid in Međimurje; the author that is true to himself and to his artistic expression. Recently he has decided to go on trips: illustrating books with his drawings.