THE UNTOLD STORY FRANJO MUSTAČ – MEDAROV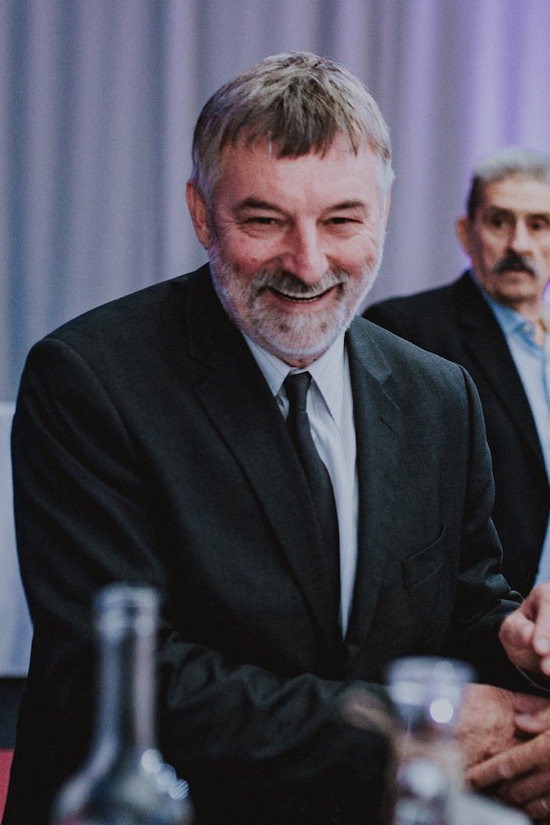 With frequent visits to painting exhibitions, Mustač becomes intoxicated with his role models; Stančić, Vaništ, Međimurec, or flipping through and studying the monographs of Dutch Van Gogh and Vermeer and French Impressionists.
Franjo Mustač-Medarov was born on 29 March 1958 as the ninth and youngest child of his father Đuro and mother Verona, née Sabol. His paternal grandfather Martin (1870-1944) was a farmer who used to step into the world of art and creativity engaging usually with tiny plastic. Martin's youngest son Franjo (1924-1969), artist's paternal uncle with the same name, stepped into that world much strongly. Even though he was self-taught, he was expressing himself in drawing, painting and tiny plastic very sophisticated and substantially. Unfortunately, such occupation was considered as a waste of time back then, and he was often scolded in the regional accent "don't you have something more wisely to do than wasting your time".
Franjo's father was a construction worker, while his mother was an attentive housewife and good educator. Having many children was a normal thing in that time, and the arable land was a measure for richness because farming was, in fact, the only source of feeding and existence of family. From time to time some of the livestock (usually calf, foal or pig) needed to be sold in order to pay all fees to the state and church, costs of school material, clothes and footwear (which was transferred from generation to generation until actually worn out) and fees for electricity – the only new charge that began in 1958 with the electrification of Sveta Marija. The main income should come from father's craft in masonry, but the system in Yugoslavia, which was developed during the World War II, was not favourable toward this mode of economic activity because it reminded of capitalism, while socialism preferred the working class and social ownership.
The Medarov family, as they were called, was not much different from other families; traditionally religious, God-fearing, strictly patriarchal, strict father, mild mother, which is why she has borne much of her burden on her back.
Poverty at the time was somehow equally distributed to most of the people, so it was not perceived as something as tragic as it might seem today. It was largely amortized by faith in God, the doctrine of the church, and the aiding of our neighbours. There was plenty of room for a song at such times, and there was only a little room for merriment. It was on such social and family occasions that the journey through the life of Franjo Mustač-Medarov began.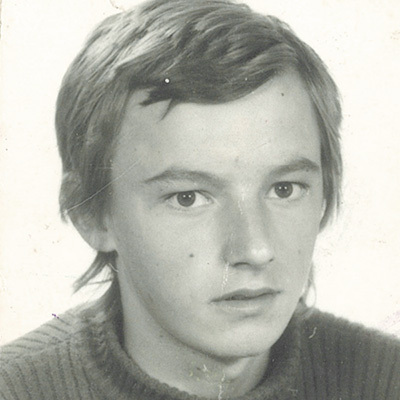 The first contact with art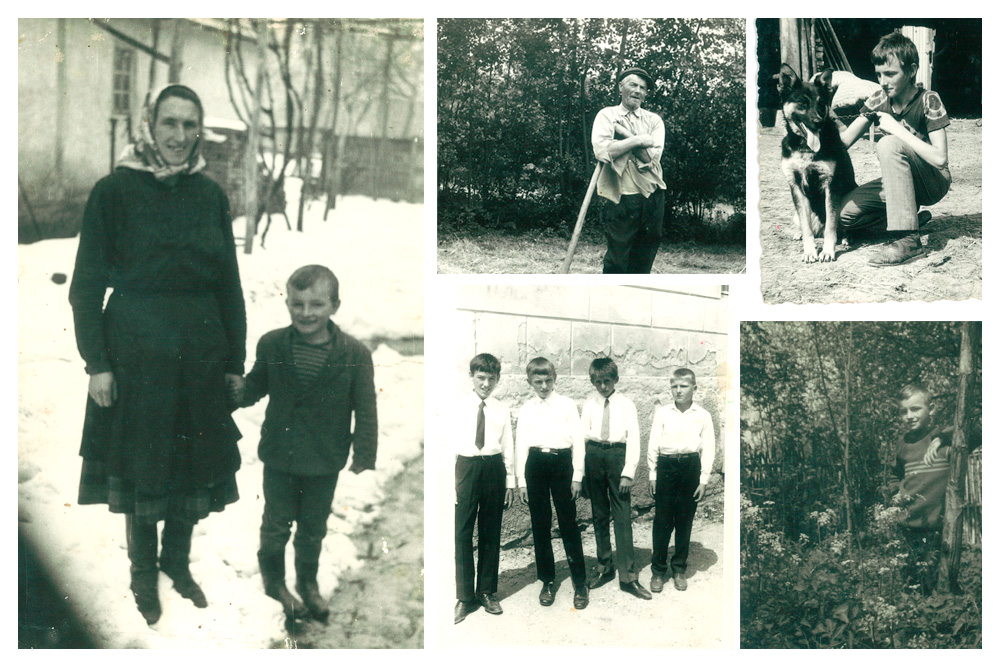 As already mentioned, Medarov family was very God-fearing, thus young Franjo started going in the church early, in the beginning in his mother's arms, later alone with his brothers and friends. His first contact with something unusual, extraordinary and so different from his modest home happened in the church – his eyes did not look at the priest, but at the church vault decorated with beautiful frescos of bible motifs and at the beautiful altar figure of Mother of God surrounded by four baroque sculptures: St. Joseph, St. Dominic, John the Baptist and St. Augustine. Fond of beautiful motifs, he was always discovering new motifs, which fulfilled him with some unusual joy.
Soon he enrolled to the elementary school in Sveta Marija in which he gained new knowledge. Already in the first grade, he felt that he was experiencing the world around him differently. Once, when they were drawing a tree, the teacher noticed that he was the only one who drew a tree with crown, while other children drew a tree as one extended rectangle facing up with lines representing branches that were coming out of it, like out of the vase. However, the biggest support he got was from his mother, in a very unusual way: he was exempted from work duties (field, stable, etc.) whenever his mother found him with his head in books or doing some homework. Older brothers were not so lucky because every other duty was priority according to the dictation of their father, and upon completion of these, if any time was left, the homework would have been done, but there was no motivation or strength for doing it.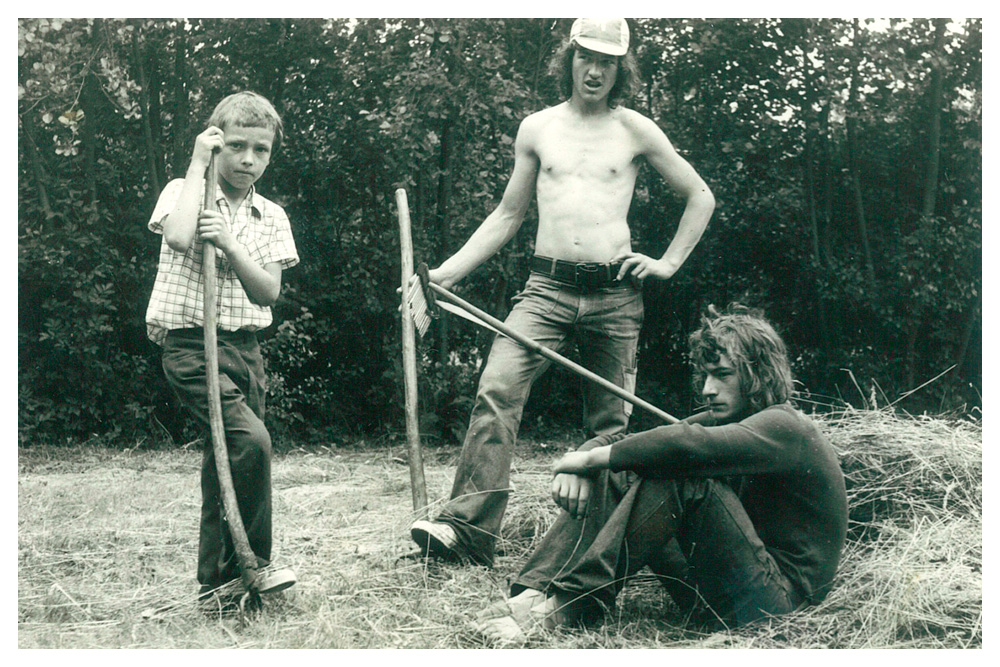 Years were passing by, and it was easier for Franjo to express himself rather by paintings than by words. Just at time when they were doing a portrait of their mother in the art class of seventh grade, he broke his right arm. He was not discouraged, but he boldly started to solve this task by his left hand, and it turned out fantastically because every problem with shadows was solved by his mind. He realized that his arm was just a tool, while the most important thing was happening in his mind.
By the end of the eighth grade, he had decided, with the help and encouragement of his beloved, but far too early deceased art teacher, Mr. Vladimir Sabol, that his life would be tied to the paint and brush. Numerous praises from teachers, mother and brothers gave him a new encouragement to continue in his path. Mother had a special role in everything, and he knew that her only joy was his happiness and success.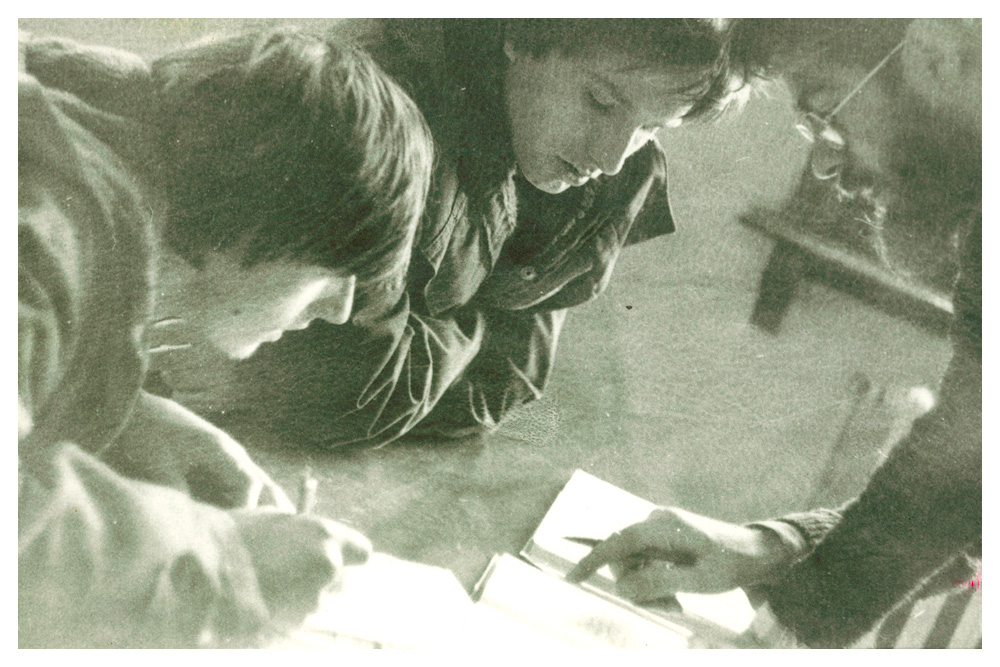 Upon competition of elementary school, he enrolled to the School of Applied Arts in Zagreb. Passing the entrance exam in drawing, he chose the graphics division because getting a job was the easiest by completing this course. The education took five years, and with the help of good professors, he slowly became a skilled expert in various painting and graphic techniques, in the same time he was constantly improving his personal expression. The connection with the native Međimurje did not end, on the contrary, it deepened both in emotional way and in terms of determining motifs. With frequent visits to painting exhibitions, Mustač became besotted with his role models: Stančić, Vaništa, Međimurec, or with flipping through and studying the monographs of the Dutch Van Gogh and Vermeer and the French Impressionists.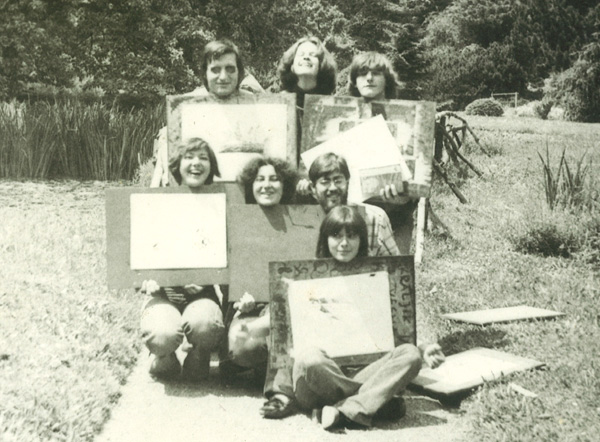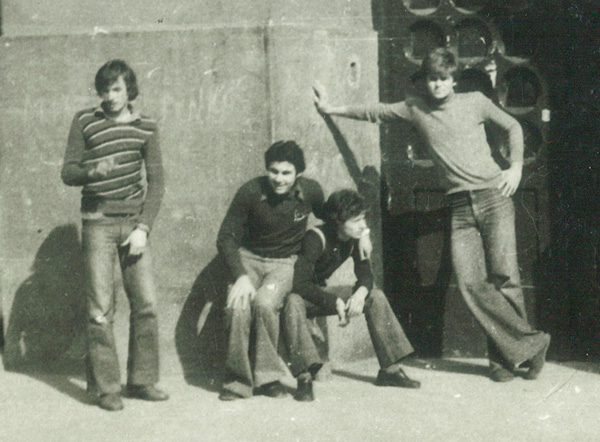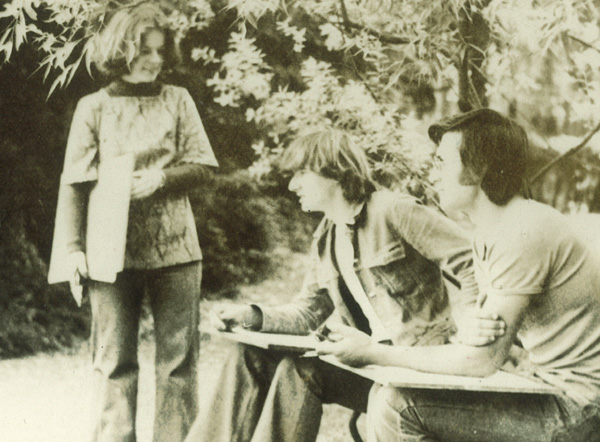 Two details from the school period played a major role in his further development. The first as an experience and the second as an artistic orientation. As a subject in the school, among others, they had the Letter, where they practiced writing by hand different types of letters such as capital, caroline, uncial, renaissance italic, etc. He was very skilled in such writing, so he often wrote instead of others in exchange for a friendship or sandwich.
The professor was very strict, and he used to give three identical grades when reviewing papers. Mustač was awarded by three fives – the best grade, but when the professor saw the task of one girl, he doubted that she had done it by herself, so he gave her an opportunity to reassure him by writing it on the spot. Fearing that an unpleasant situation would happen, Mustač confessed his "misbehaviour". The professor gave to the girl three ones – the worst grade, and to Mustač three fives additionally, to the astonishment of Mustač and the others! Logically, work should be rewarded. A lesson for Mustač – it is worthwhile to work.
The second detail: while travelling home from Zagreb, Mustač used the train (normally, it was cheaper than the bus). There was just a little bit more than three kilometres from the train station to the village. When he arrived on a glade overlooking the countryside, his heart would start to dance with pleasure in his chest, the warmth would flow through his body, and even a tear would come out of his eye. This moment will remain as his topic forever, and Professor Emilija Kovač, as a good expert of his works, said: "Such people, who are sensitive to shades and whispers, can engage with one and the same motif all their lives, knowing how to find more and more in it…" Therefore, Mustač slowly became a painting poet of Međimurje's plain.
After completing secondary school and serving military service, he returned home to Sveta Marija. In 1980, he got a job as a textile designer at Čateks in Čakovec, where he worked until he retired in 2018. In 1987 he supported and shared the ideas of like-minded people, he formed the first amateur art association in the area of Međimurje (LUDM) together with Franjo Ružman and Damir Šalari, with association's headquarter in Prelog, of which he is still a member. He is also a member of the Varaždin Art Association (LUV), and he is participating in numerous art colonies, primarily humanitarian ones.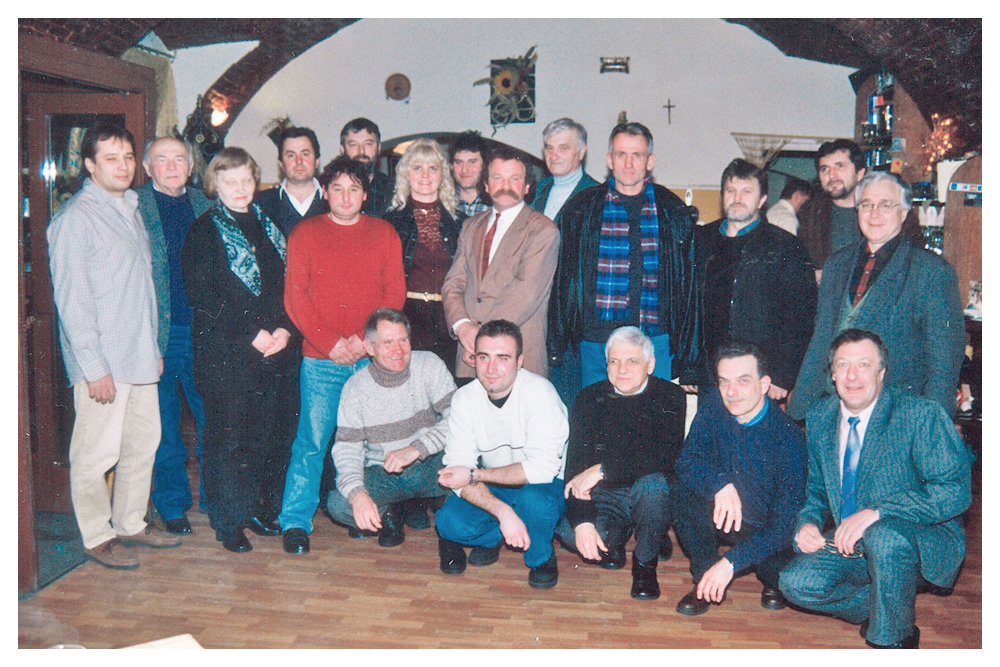 No painting technique is foreign to him, but he can surely say that he has perfected the most demanding technique – oil pastel. His motifs are various, just like techniques, yet he stands out in the painting of landscape, the one that has so etched in the heart and filled the soul since the old school days when he was coming home from the train station and at his first encounter with his beloved village Sveta Marija (or "zavrtni pejzaži" as Professor Emilija Kovač called it). Almost in all his paintings, you may feel the sense of belonging to the environment from which he came - Međimurje.
In the landscapes these are:
cornstalk that he has put together on countless occasions, giving them life, and that is probably why they have a soul in his paintings, just like living beings

field roads ribbed by the wooden wheels of old carriages, by which he liked to drive, especially on its back part

fields and plains - a tame and gentle feeder of treasures and people
Still life motifs are interesting forms of land pottery thrown, for example, in the middle of a bunch of fruits that sentimentally bring us back to our childhood. The pots from which hectolitres of sour and sweet milk was drunk, which was the most common, almost daily meal together with corn bread – especially in days when a lot of time was spent by working on the field. This is how the famous "kravica-mamica" (cow-mommy) comparison developed. Cheese strainer with its characteristic holes, container for water, can in which butter was made and similar items. In these objects, he was often putting flowers as motifs: lilacs, poppies, daisies, peonies... Everything that surrounded him was emanating an unusual calm and warmth, which charged his batteries that even today emanate beautiful and precious images from his childhood.